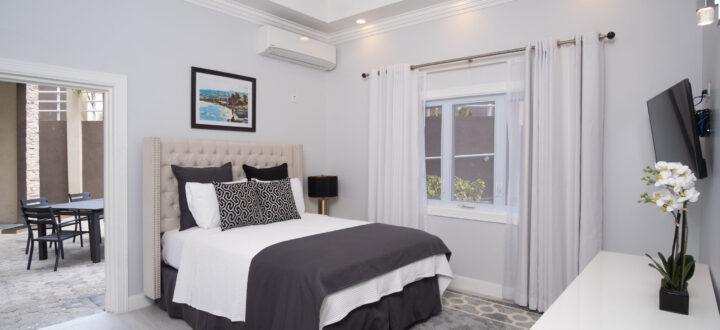 Located on the first floor, Saturn reflects the elegant practicality of Caribbean design with an incredible garden view of the lush tropical landscape of Sunseeker Villa. This suite reminisces the vibrance of Jamaican décor boasting a Queen size bed, customized dresser, rain shower with handheld capabilities, a hotel-style hairdryer, and a smart alarm clock. Let […]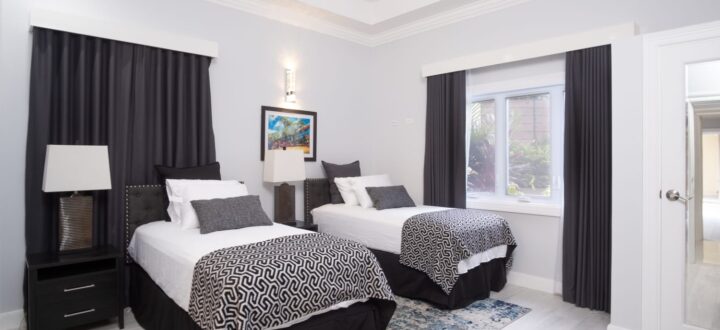 Surrounded by tropical landscaping, Pluto provides the perfect ambiance to relax, release, and rejuvenate.
Fitness Center


Located on the ground floor, our modern fitness center provides a calming garden view as you focus on maintaining your health and wellness. This air-conditioned fitness center boasts state-of-the-art equipment, including a tread mill, stationary bike, elliptical machine, dumbbells, and exercise mat with ample space for stretching and floor exercises.
Landscaping
The lush landscape of Sunseeker Villa reflects the vibrant colors of Jamaica's horticulture and the rich foliage of the Caribbean. The grounds are breathtaking with natural flowers and plants and aesthetically pleasing green spaces interspersed throughout the property to provide warmth and serenity.
Pool/Jacuzzi
The perfect hang out spot for family and friends, enjoy the picturesque view of the Gazebo, sky, and landscape in the heated pool and Jacuzzi. Enjoy your private bar and Internet radio as you relax and rejuvenate on the lounge furniture and have fun!
Ready to stay in the Sunseeker Villa?
Book now