Enjoy a luxurious stay in Jamaica
On a family trip?
The Sun Seeker Villa is a newly built 10 bedroom Luxury Villa located in Ironshore, Montego Bay, Jamaica. Located less than 10 minutes from the Montego Bay Airport, this villa has all the amenities you will need to completely enjoy your stay here on our beautiful island of Jamaica.

Decorated with sleek modern style furnishings, the villa is great for large groups, retreats, family reunions, or simply a fun family/friend get away.

Our main building which is over 15000sq. ft., houses 10 bedrooms on 3 separate floors; 8 of which has their own en-suite bathrooms with the other 2 bedrooms sharing 1 bathroom. All rooms are equipped with air conditioning, ceiling fans, smart flatscreen TVs, WiFi, secure safes, alarm clocks, and hair dryers. Visitors have the opportunity to enjoy our indoor gym, outdoor swimming pool, pool bar cabana, game room, and entertainment room stacked with many fun family board games. For your safety, we provide keyless entry doors, a trusty alarm system, and 24-hour security. Free parking is also available on the property.

The Sun Seeker Villa comes fully staffed with chefs, butlers and housekeepers (included in the rates) to ensure that your stay here is a perfect getaway.

Jamaica's Melting Pot
Montego Bay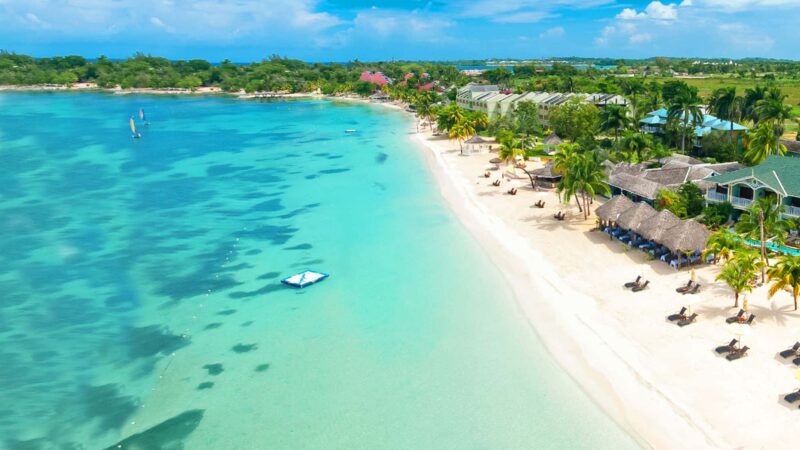 Montego Bay is the fourth-largest urban area in Jamaica by population, after Kingston, Spanish Town, and Portmore, all of which form the Greater Kingston Metropolitan Area, home to over half a million people. As a result, Montego Bay is the second-largest anglophone city in the Caribbean, after Kingston.

Montego Bay is a popular tourist destination featuring duty-free shopping, a cruise line terminal and several beaches and resorts. The city is served by the Donald Sangster International Airport, the busiest airport in the Anglophone Caribbean, which is located within the official city limits. The city is enclosed in a watershed, drained by several rivers such as the Montego River.[2] Montego Bay is referred to as "The Second City", "MoBay" or "Bay".

The tropical adventure of your dreams awaits you in Montego Bay. Whether you're looking to relax on perfect white sandy beaches with clear blue skies above, be swept away in the rocking nightlife steps from your hotel, or enjoy thrilling experiences that etch lifetime memories, you'll find it in the enchanting "Mobay."

It's a marvelous melting pot of cultures, buzzing with locals, visitors, and expats who've made Jamaica their home. Enjoy the exuberant pubs and clubs, the wide array of eateries, the glistening beaches, the incredible artistry and craftsmanship of our people, and the diverse accommodations here ranging from all-inclusive resorts to boutique hotels.